About me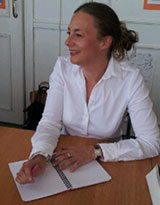 I have over 20 years' experience (BSC (Hons) Sociology & Communication Studies) regarding intervention and prevention of vulnerable families in the UK.
I trained as a Domestic Violence Crisis Counselor in New York and then progressed to train in London as a qualified mediator. I quickly became involved in community development; running large outreach programmes entitled "Life's Better Together". This included homework and art clubs, summer sports camps in local schools with volunteers and in partnership with Wandsworth Teenage Pregnancy Unit to provide short, sharp, intensive training for teenage mothers.
I then moved into the youth offending world, coordinating Youth Inclusion Projects (YIP) with large staff teams providing outreach services to excluded young people and then strategic and operational co-ordination of Lambeth Youth Council.
Running Lambeth for Domestic Violence is one of my greatest achievements, training all 8000 staff, changing Lambeth Councils HPU Policies to ensure women and their children that are victims of DV receive urgent priority for accommodation and the raising of funds for Lambeth's only DV Support Centre.
After achieving a Certificate in Teaching Practice and a consultant for the National Children's Bureau, I became Kidscape's Bullying Intervention Training Co-ordinator for England and Regional Trainer for London and the South East.
As Director and Trainer of Brave the Rage, I provide consultancy and delivery of workshops for UK professionals, parents, children and young people that include practical solutions to bullying and anger, which in turn provide sustainable life skills for the future. I am in partnership with many corporate, private, public and third sector charities providing training, consultation and facilitation. This includes Premier League, Nomura Bank, Lancashire Social Services, Liverpool Hope University, South Bank University, Le Cordon Bleu Cookery School and Swiss Learning to name a few.
I am now Vice Chair for Children England Regional Sub Group, CEOP Ambassador and a board member for Oakmere Community College in Liverpool and a member of the Institute of Leadership and Management to deliver Safeguarding Practice in the Youth Sector.